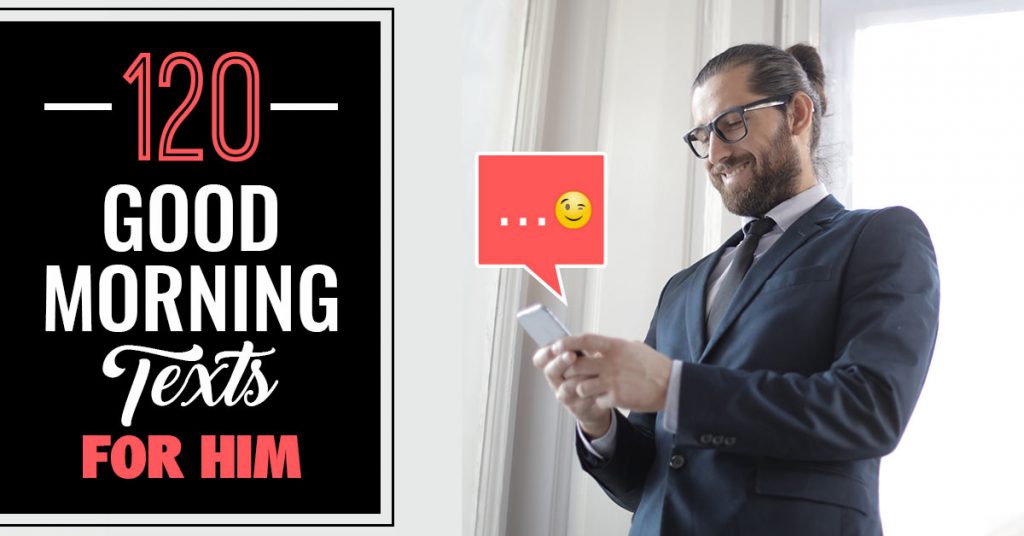 Early mornings are perhaps the best time of the day to send a sweet love message to your Prince Charming. It's a great time to wish him a great day ahead and even show him how much he means to you. So, the early morning hours are a great time for some good morning texts for him.
The fact is that it's not only ladies who feel special when they receive a good morning text from their guy. Truth is that guys also need some of such warm affection and appreciation shown to them in the early morning hours. This can go a great way to help a guy start his day in a good mood.
Remember that it really doesn't matter if it's a long or short, funny or romantic text message as it can help to set the mood for his entire day. If for nothing else, it's a great way to let him know that he's actually the first thing you think about when you wake up. Or that he's simply in your thoughts each and every morning.
Here's a great collection of some wonderful romantic, flirty, cute, funny, and sweet good morning text messages you can readily send to your boyfriend or husband. So, go ahead and show him your cute side while brightening up his day by telling him how much you truly love him.
Short Good Morning Messages for Him
1.
I wish I were there to hit the snooze button with you.
2.
Good morning to the world's best lover!
3.
You are my favorite man. Try to remember that all day.
4.
You always bring the biggest smile to my face.
5.
Here's a good morning hug from me to you.
6.
Love you, babe! Good morning!
7.
Good morning, handsome! I love you!
8.
You are in my thoughts today, tomorrow, and every day.
9.
I'm sending love your way this morning!
10.
Good morning to the handsomest man alive.
11.
Knock, knock sleepyhead! Time to wake up!
12.
I hope you had the sweetest dreams, my love.
13.
Good morning my special guy. Have a great day!
14.
Just the thought of you brightens up my morning.
15.
I hope your morning is as bright as your smile.
Funny Good Morning Text for Him
16.
Good morning to the man who could make sleeping an Olympic sport! Get that coffee brewing, babe; I love you.
17.
Today, I forgot about my morning classes because you appeared in my mind, and I started daydreaming. It's hard to stop thinking about you.
18.
Morning hot stuff! Your face is so handsome, they should make it illegal.
19.
I hope you had a good sleep having a dream with me in them. Every morning I think of you and wish to feel your hands all over my body.
20.
You know what, my pillow doesn't like you. Because it knows that someday, I am going to replace it with your warm shoulder. Have a lovely day!
21.
Good morning to my favorite person on the planet. Unless I find a sexy alien, you are the one for me forever.
22.
I woke up just to say good morning and now it's time to fall back asleep. Wake me up with a reply?
23.
Good morning! Let me know if you feel like getting into trouble later. I have a few ideas that could be fun.
24.
As your day begins, just remember that I love you. Just in case you forget, read this message all day.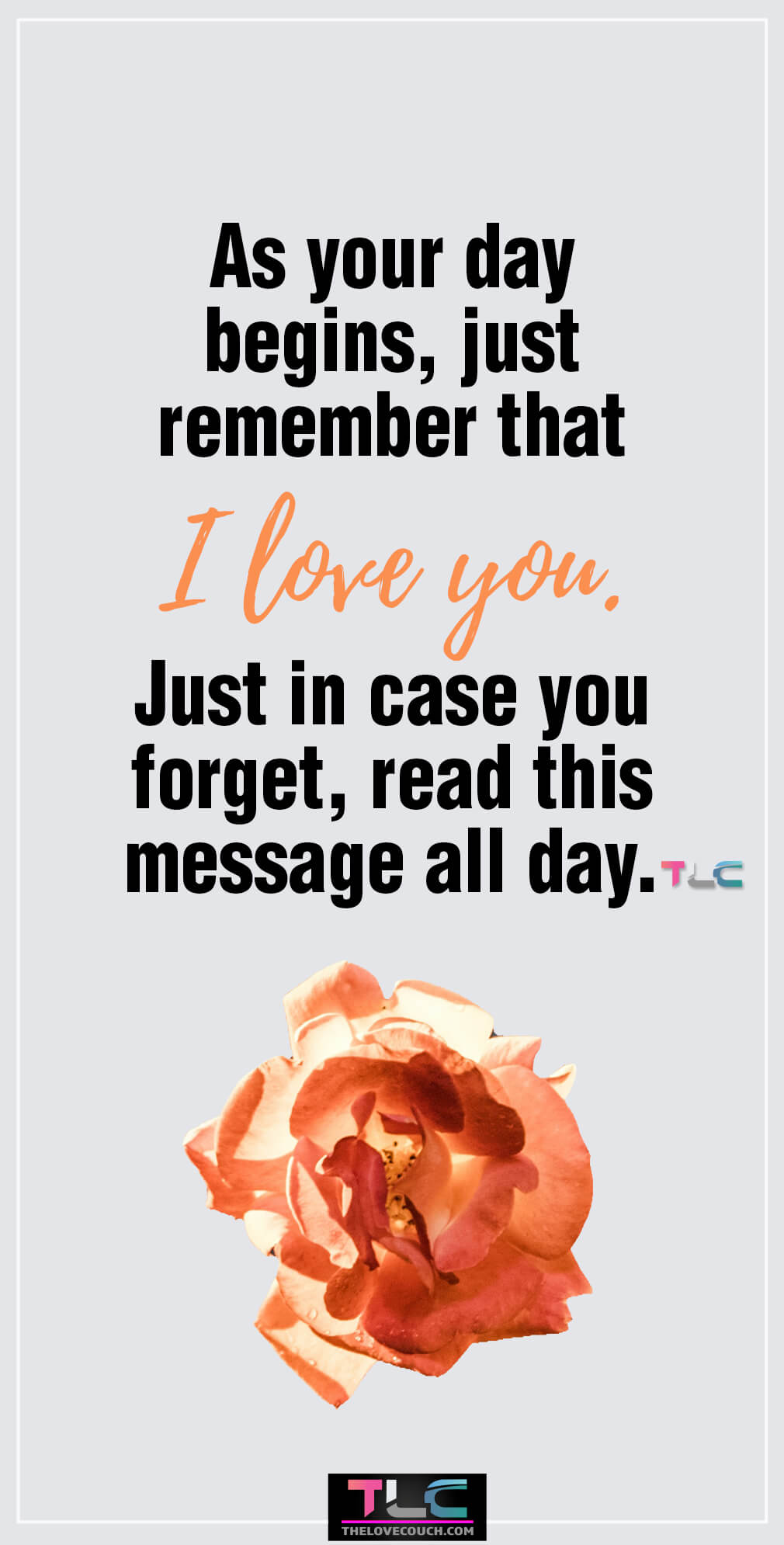 25.
It's so funny how you're prince charming in my dreams but a nightmare when I wake up. No wonder I love sleeping so much. Just kidding, babe, good morning!
26.
Good morning to the man who can annoy me like an alarm clock but brighten my day like the sun. Love you!
27.
Good morning to the most wonderful guy I've ever known. He's charming, kind, humble, honest, and handsome. And he's smiling right now!
28.
I hate the part of the morning when I have to get out of bed with you when I know we could be having so much fun in it!
29.
I just want to crush my alarm! Every day it wakes me when I'm having a dream of you. Well, good morning handsome!
30.
Good morning, love. I see my spell hasn't been broken. You are still incredibly, hopelessly, insanely, head-over-heels in love with me. May the magic continue!
Sweet Good Morning Text Messages for Boyfriend
31.
Every morning reminds me of what a great blessing you are to me. For every joy you've brought to my life, may you receive double. Today, may you have all your heart has ever wished for. Good morning my darling.
32.
I'm wishing you a day as bright as your smile, as sweet as your heart, and as amazing as you are. Good morning my love.
33.
I just wanted to let you know you are the sweetest, most loving guy I have ever met! I'm so happy I have the pleasure to wake up thinking about you!
34.
Good morning handsome! I hope your day is amazing. I can't wait to see you tonight smiling as you hold me in your arms.
35.
The sun is shining and my heart is beating for you. The morning is bright, and I am looking forward to seeing your smile.
36.
Without you, I don't know if I'd have a smile this big on my face this early in the morning.
37.
You are the first thing that comes to mind when I wake up, and the last thing I think of every night. Despite the challenges in life, seeing your handsome face gives me so much strength and completes me. Good morning my love, how was your night?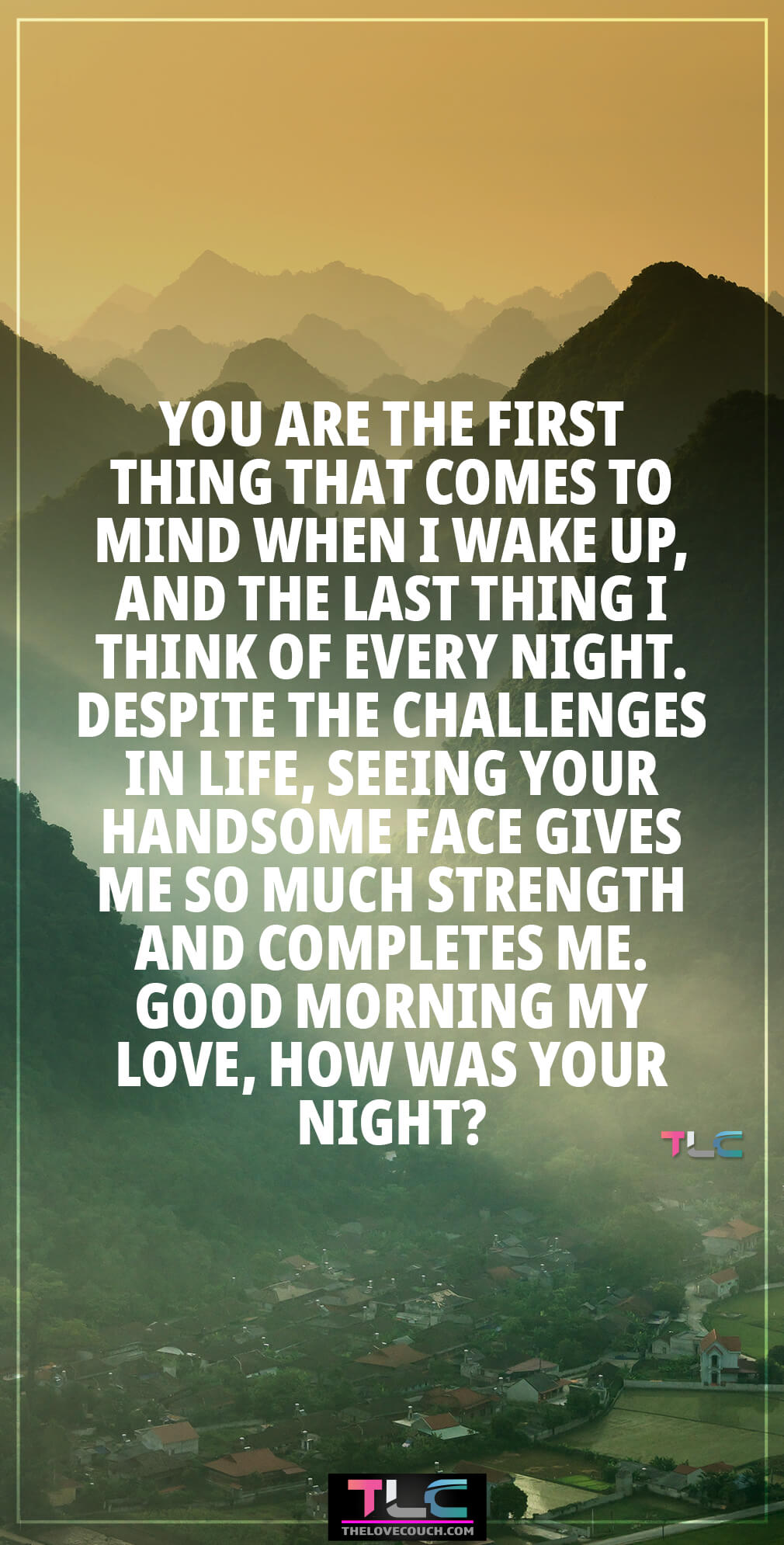 38.
I hope you know how sweet it feels to wake up every morning knowing that you are mine and I am yours? My dear, it is magical. Good morning my love!
39.
I woke up this morning and saw the beautiful sunrise, but even the sun couldn't compete with your amazing smile! Good morning!
40.
A smile opens up a heart faster than any key in the world can unlock a door. Open your eyes this cool morning and brighten the world with your handsome smile. Good morning baby!
41.
One of the nicest things in the world is waking up to the one you love and seeing them smile as they wake.
42.
Although I like to put a bit of sugar and creamer in my coffee every morning, your kisses are always the sweetest things on my mouth. Can't wait to feel your lips on mine!
43.
The morning feels so lonely without you my love. The first thing that comes to my mind when I wake up is how much I wish you were with me to give those sweet hugs and cuddles. I love you. Good morning dear!
44.
You add light to my life, take away my nightmares, and make me smile. Good morning handsome; I love you deeply.
45.
My love, do you know that my entire night was spent dreaming about you? Now I want to spend my whole day with you. Good morning dear!
Cute Good Morning Messages for Him
46.
Here's just to wish a very good morning to the wonderful man who makes me weak in the knees. I love you endlessly.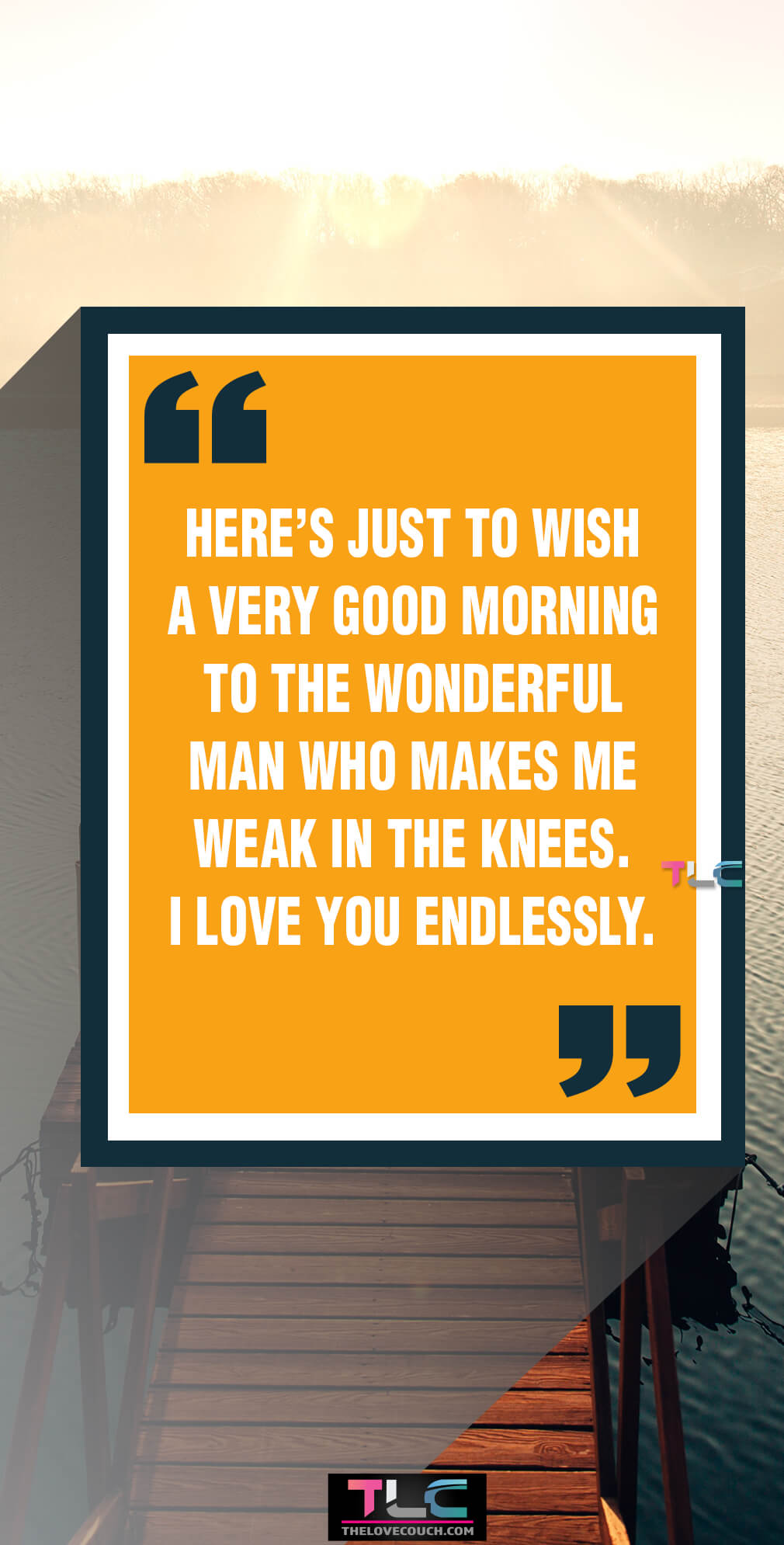 47.
I may not be by your side with coffee or give you breakfast in bed but I want you to know that my heart was with you all through the night and my wish for you today is that you have an amazing day. Good morning darling!
48.
I woke up today with the thought of you in my mind. I then asked the sun and the birds to gently wake you up and wish you a good morning. Hope they did. I love you.
49.
Good morning, honey. Just want to wish you all the success in the world today! You're an amazing guy, and I believe in you.
50.
Good morning, baby! I am so happy to have you in my life!
51.
Every morning I fall in love with you all over again. You're my best man and an absolute heartthrob. Good morning to you!
52.
Good morning to the only man on earth who makes me feel good in my own skin.
53.
I can't be with you all day, but take these loving words with you this morning. You're my sunshine and my most wonderful man.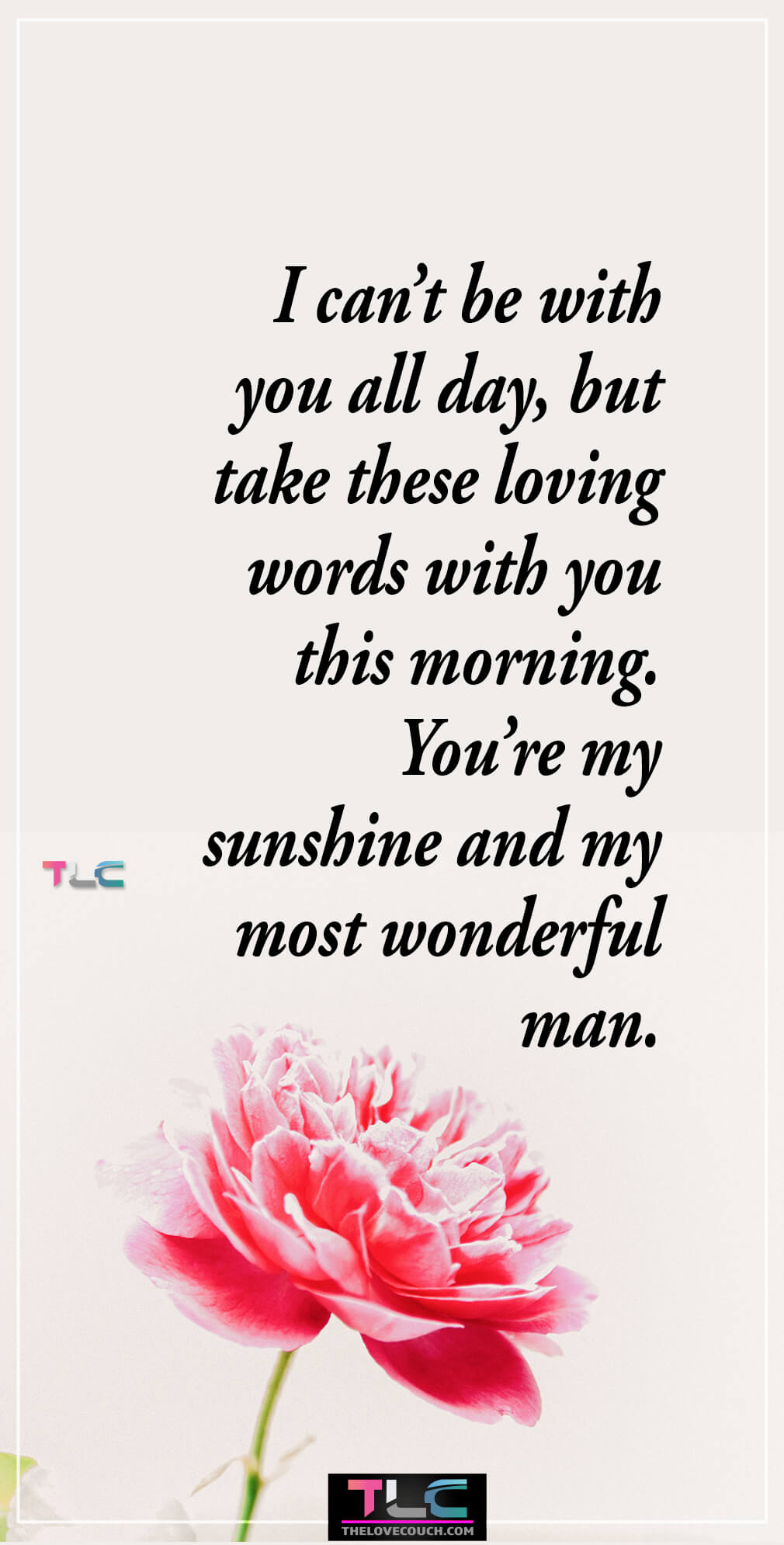 54.
I saw my dream lover in my sleep and I woke up with a smile because it was you. Let me share my love with you on this awesome morning. Have a phenomenal day!
55.
I am sending you some virtual kisses for good morning. And you will get the real ones when you come over.
56.
Good morning, honey! Wish you were here!
57.
Rise and shine, my dear. There is nothing sweeter than the warm sun on my face and your tender kisses on my cheek. I can't stop thinking about you and the good times ahead of us. Good morning. I miss you already.
58.
I wish I was there to see how cute you look when you wake up.
59.
What would a day be like without seeing your handsome face in the morning? Truly sad, until I can at least hear your voice again. You are my everything.
60.
Good morning to the man who stole my heart!
Romantic Good Morning Messages for Boyfriend
61.
The roses look more beautiful today and the ocean seems calm than ever all because a soul with a beautiful heart full of love is up and alive. Good morning my darling. Have a wonderful day ahead. I love you.
62.
There is no one who brings me more peace than you do. Good morning my rock; I love you more than you know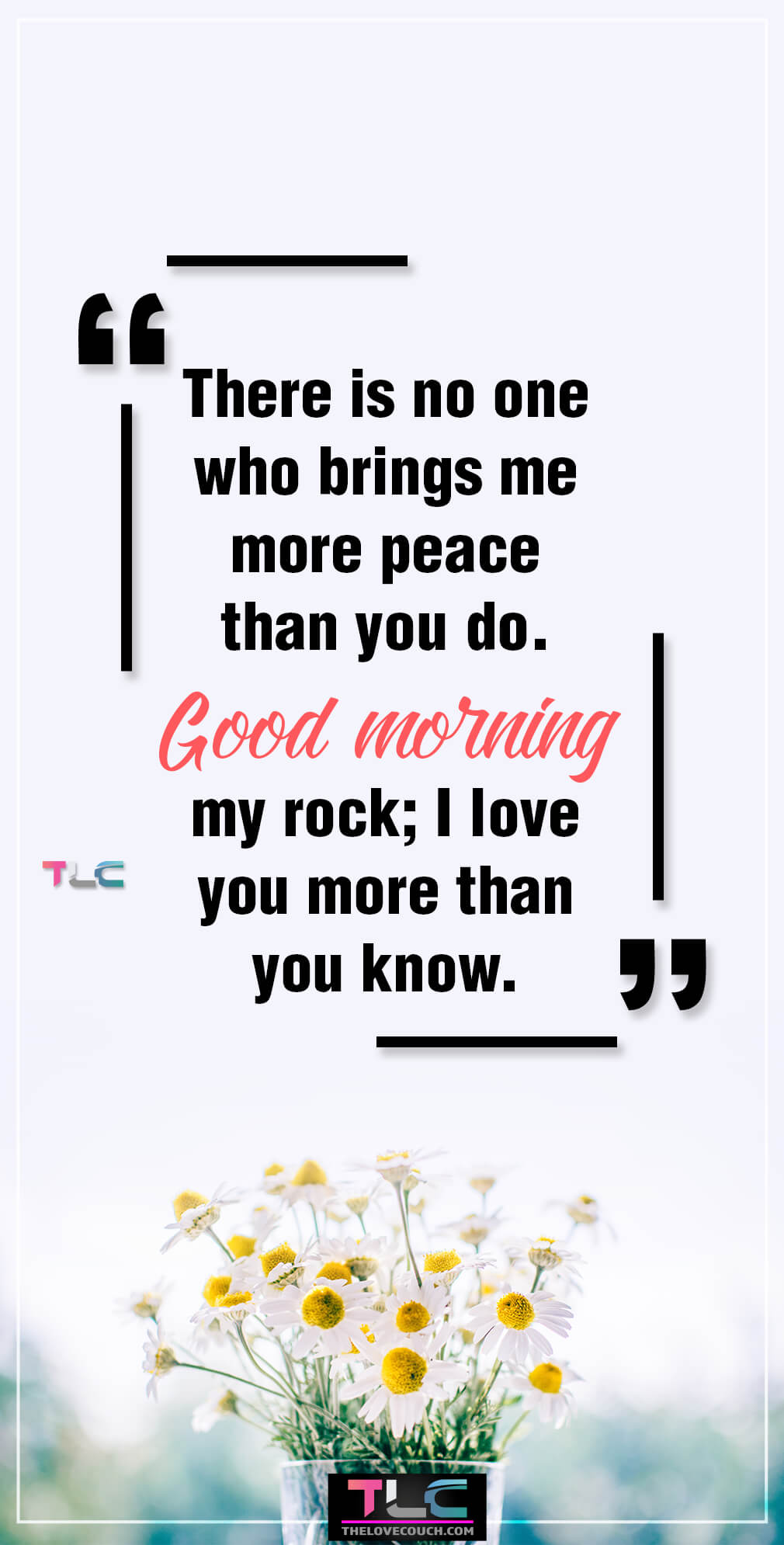 63.
Wake up, baby. The sun is shining, the birds are singing, and you are hot!
64.
Waking up in your arms is the best part of my morning, sweet guy. Love you.
65.
You are the reason my heart dances in the morning! I love you my angel.
66.
I hope you wake up from a dream of me. Good morning love!
67.
I hope you're having a great morning, babe! The morning sun is so gorgeous here, but, of course, it would be an even more beautiful morning if I had woken up beside you. Miss you, honey.
68.
It's always a good morning cause you bring a new dawn into my world. Baby, I love you.
69.
You are the reason my every morning is beautiful. I send kisses for you.
70.
This is a great morning; want to know why? Because I know you're all mine. I love you more than you know babe!
71.
I hope this good morning text makes you smile because I love it when you smile… even if I can't see it right now. Missing you love.
72.
Good morning babe. Wishing I could kiss your handsome face as I wake up.
73.
The most beautiful part of waking up, is knowing, I'm in love with you!
74.
I felt incomplete waking up this morning, and I realized it's because I'm missing you. To the one that owns my whole heart, Good morning! Enjoy your day!
75.
This morning is gorgeous, and what's making it even better are my thoughts of you. Miss you, handsome!
Good Morning Love Messages for Him
76.
My morning starts with your love. Your love stays with me all day long. I never want to lose you. Let me be with you always. I love you. Good Morning my love.
77.
Waking up with the thought of you is a blessing. I have never been so deeply in love with someone, it's magical. You make me wanna fly, and I hope I make you feel that way either. Have the best day, love!
78.
You are the Sun of my life. This beautiful morning reminds me of the light that shines through your magnetizing eyes. I hope I will see you soon, love. Have an amazing day, don't forget to smile and laugh a lot!
79.
When I wake up in the morning and think of you, I cannot help but smile. You never fail to make my day brighter. Good morning, my man.
80.
All I wish is that every day of my life is spent watching the lovely smile on your face. Good Morning my Love!
81.
My Prince, this morning seems brighter than a ruby fire with our love evergreen than an emerald.
82.
You're a delightful part of my world. I can't imagine life without you, honey. I love you so much. Do have a nice day. Good morning.
83.
Your love amazes me, your strength encourages me, your trust in me honours me that's why I can't love you any less. Good morning and do have a great day.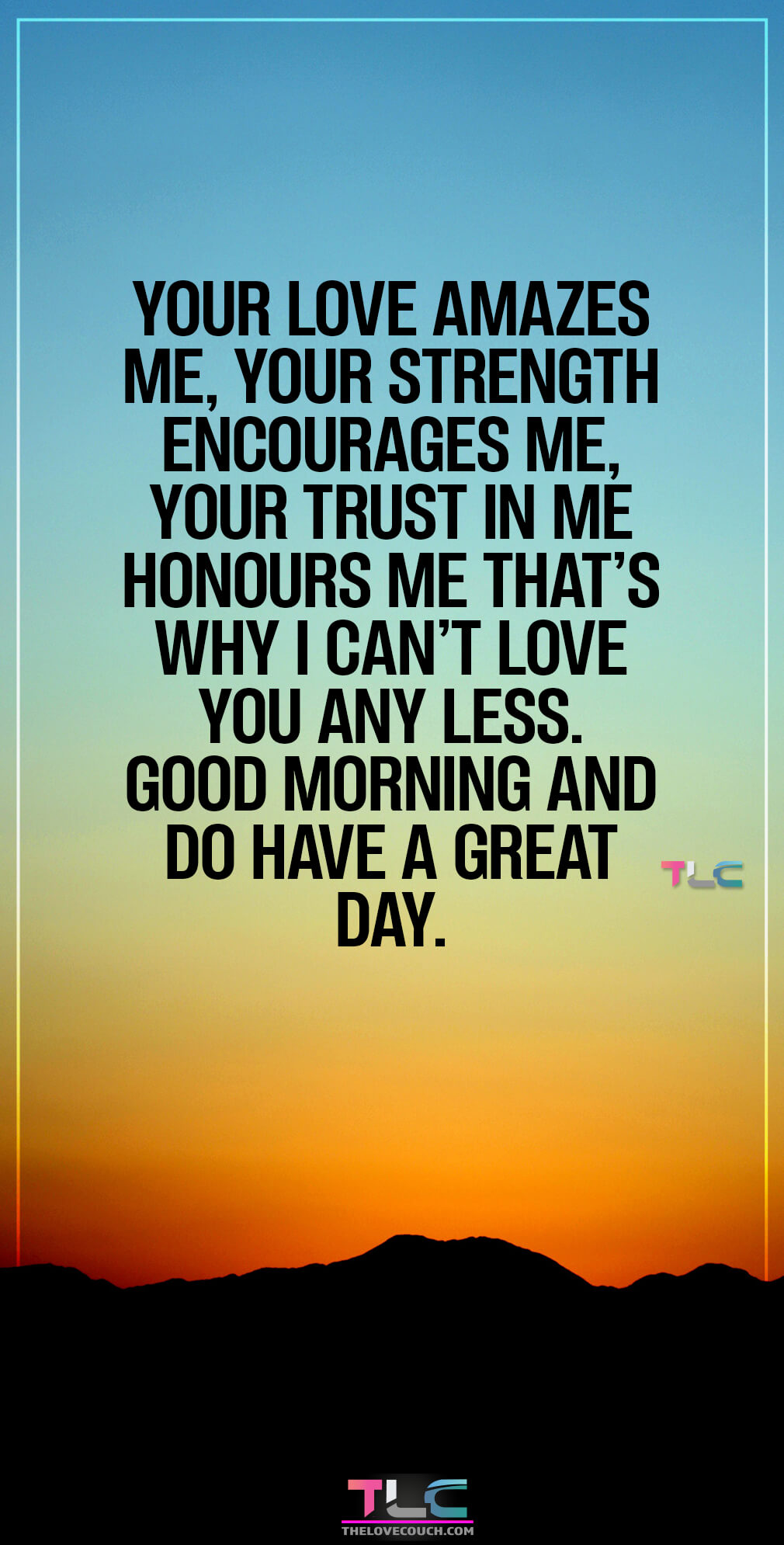 84.
My day doesn't start without hearing from you? That's how important you are to me. Have a great day. Good morning.
85.
My Firefly, I thought I was happy before you came into my world, right now your arrival into my life has shown me the true meaning of happiness. Good morning.
86.
Since I've met you, my every morning is a blessing. Even Mondays don't seem so bad when I know I have you. I hope that this day will bring you the best it can, and you will smile a lot. Oh God, I love your smile.
87.
Hey beautiful! Hope your night was as good as mine. Here's a quick reminder that you're a gift I'm thankful for. Good morning sweetheart.
88.
Baby, our love only goes up and never down, thereby, defiling the law of gravity. Good morning my partner in crime.
89.
You are the beautiful song of my life! I wish to be your music! Have a nice day! Happy morning my dear!
90.
My darling, you inspire me every day and make my days amazing. Good morning, dear. I hope you have a nice and productive day.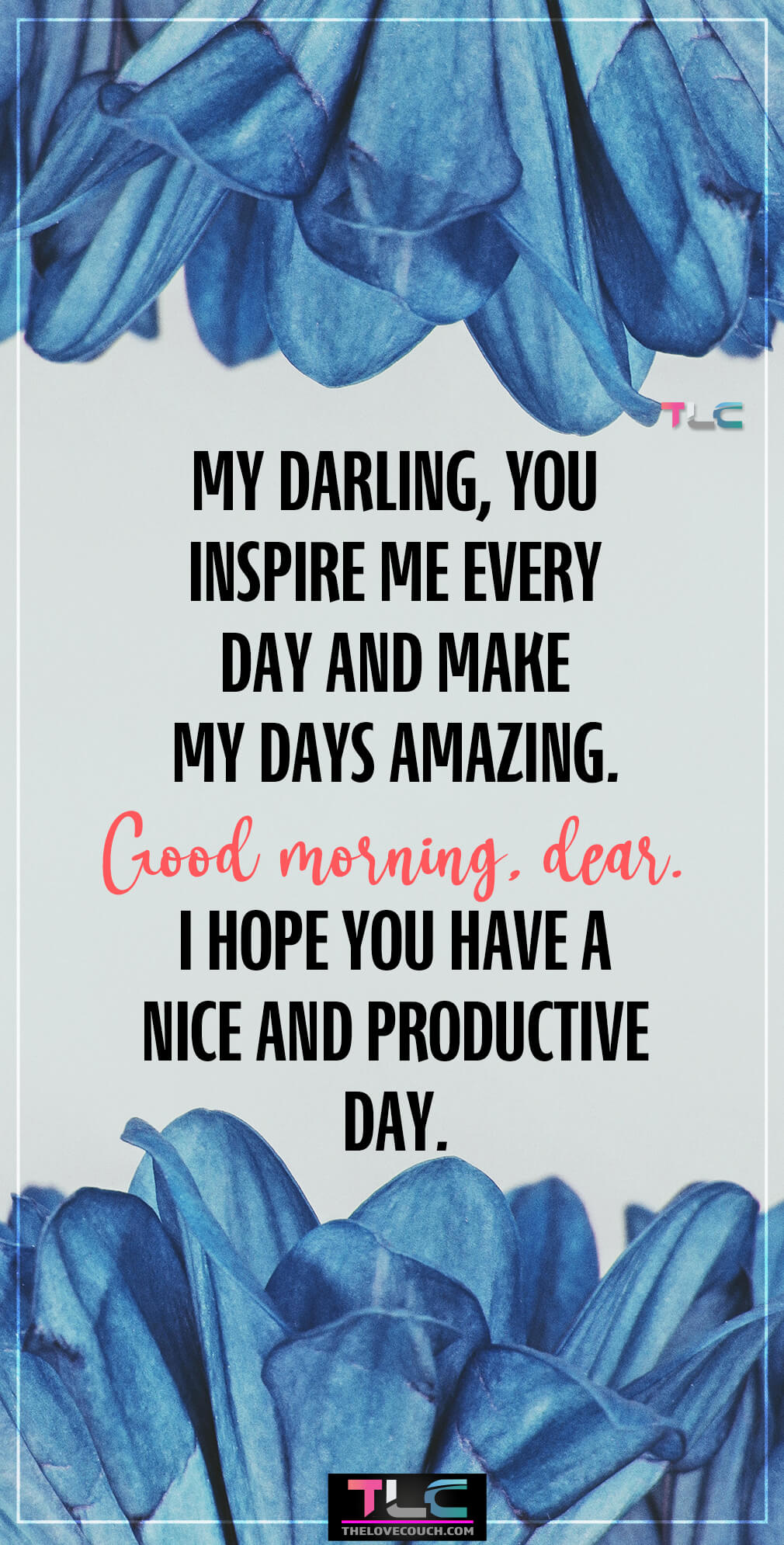 Flirty Good Morning Text Messages for Him
91.
A good morning would involve you having me for breakfast… but since I'm not there, my text message will have to do.
92.
Feeling kind of chilly this morning… maybe you could come and warm me up? I have some ideas.
93.
Good morning babe. I wish I didn't have to wait all day to get you naked, but I will.
94.
Good morning baby. I want you so bad right now but, I'm willing to wait until later, I suppose… have a great day!
95.
Good morning handsome, can you still smell my perfume on your sheets? I hope so! Have a good day.
96.
Good morning love. Just thinking about what we would do if you were here right now. I'll give you a hint… we wouldn't have to even get out of bed.
97.
Good morning sexy! I can't wait to see you tonight and make all my naughty dreams about you come true.
98.
Good morning to the world's hottest lover. Thanks for last night!
99.
Good morning, babe. I just got dressed, but I can't wait for tonight when you're taking all these clothes off of me! Have a great day.
100.
Hope your morning is as incredible as last night was. I can't wait to make it happen again soon.
101.
If you're good today, then you might end up with a sexy surprise when you get home. Have a great day, babe!
102.
Morning babe! If only I were there to wake you up properly.
103.
Morning hot stuff! This morning I feel like I won't be satisfied until your body is on mine. Have an awesome day!
104.
Morning love. Just hopped out of the shower… wish you were here to help me get dressed.
105.
Wishing I woke up pressed against your body… I guess I'll just have to wait. Have a great morning.
Romantic Good Morning Quotes for Him
106.
Sometimes, you are pretty much the only thing that makes me want to get up in the morning.
– Jojo Moyes
107.
Every day I feel is a blessing from God. And I consider it a new beginning. Yeah, everything is beautiful.
– Prince
108.
If you want to know what a truly healthy relationship is, it's one where both people wake up every morning and say, I choose to be with this person.
– Robert Morrow
109.
I remind myself every morning: Nothing I say this day will teach me anything. So if I'm going to learn, I must do it by listening.
– Larry King
110.
When you get up in the morning, you have two choices – either to be happy or to be unhappy. Just choose to be happy.
– Norman Vincent Peale
111.
Opportunities are like sunrises. If you wait too long, you miss them.
– William Arthur Ward
112.
When the sun came up… I couldn't tell where heaven stopped and the Earth began.
– Tom Hanks
113.
When you do something beautiful and nobody noticed, do not be sad. For the sun every morning is a beautiful spectacle, and yet most of the audience still sleeps.
– John Lennon
114.
You give me strength; you give me just what I need. And I can feel the hope that's rising in me. It's a good morning.
– Mandisa
115.
Morning without you is a dwindled dawn.
— Emily Dickinson
116.
I find myself daydreaming about him when I wake up in the morning, in school when something reminds me of him, and when I fall asleep at night.
– Simone Elkeles
117.
Maybe I'm dreaming you. Maybe you're dreaming me; maybe we only exist in each other's dreams and every morning when we wake up we forget all about each other.
– Audrey Niffenegger
118.
All I could think was that I would like to spend every morning for the rest of my life waking up beside [you]. – Nicholas Sparks
– Ernest Hemmingway
119.
Good morning. I hope you find today to be extraordinary. Are you in love with the whole damn world? You should be. It is glorious, and I can see a better way to experience life than being madly in love with everything.
– Victoria Erickson
120.
Right now, after a really bad morning, I want to bury myself in you and just forget everything but us.
– E.L. James
---
If you found this article helpful, you might want to save it to your Pinterest's Text Messages board for later. You can also share it on your preferred platform via the social media buttons below.