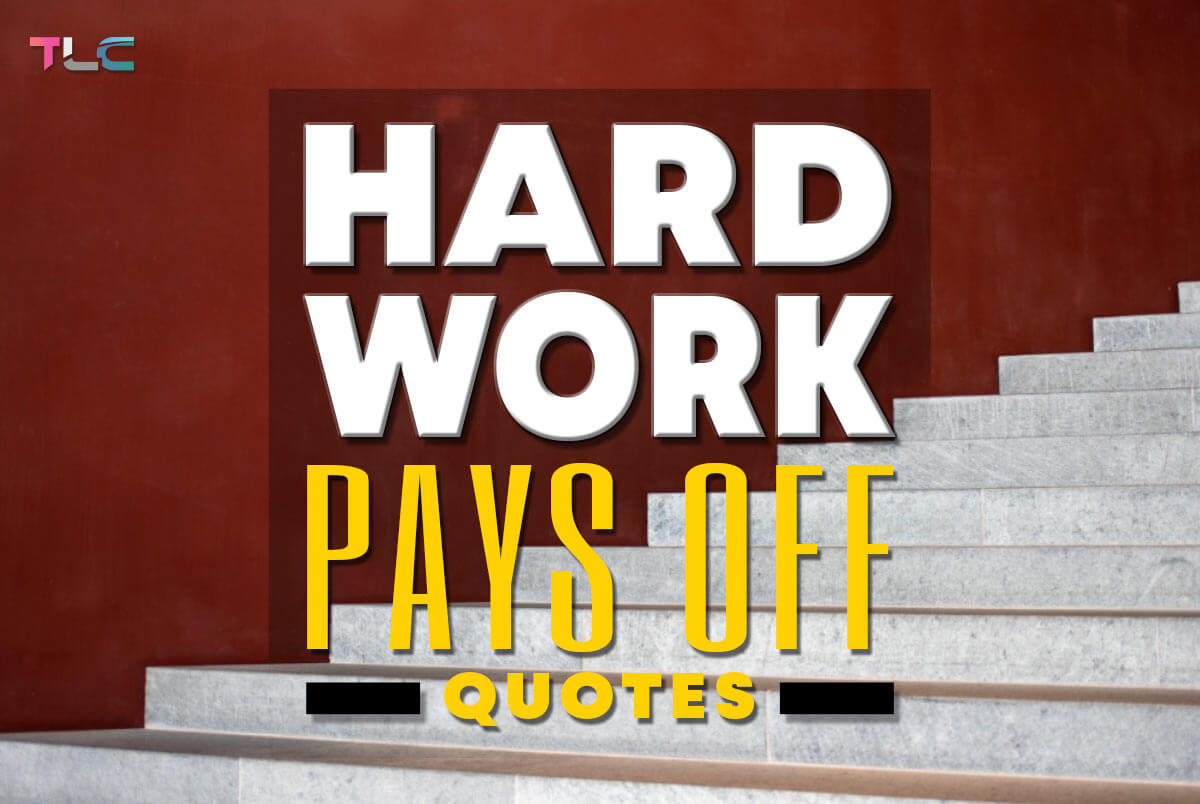 There's one fact that is so difficult to gainsay and that is the fact that hard work is the most reliable path to get success in life. It is one of the few constants we have in life – hard work pays off.
Hard work is an important concept that can lead to success in various aspects of life. Those who put in the effort and work hard tend to reap the benefits of their labor.
Every goal one can conceive in the mind can be achieved by working hard. By setting realistic and achievable goals and putting in the requisite hard work to achieve them, anyone can achieve outstanding success in their chosen field of endeavor.
Sooner or later, as sure as the sun rising tomorrow, hard work always pays off. History is replete with countless individuals who were able to achieve extraordinary success by simply embracing the ethos that hard work pays off.
Hard Work Pays Off Quotes
Thus, we should never give up on our goals but continue to work hard towards achieving them until they become realities in our lives.
Embrace the ethos of hard work and harness its power today to unlock your true potential and to bask in the fulfilment of your dreams. Let the transformative power of perseverance that comes from hard work guide you on this incredible journey of success and personal fulfilment.
To help you keep your eyes on the prize, we have collected some of the most powerful and inspiring hard work pays off quotes to motivate you to work harder and achieve your goals in life.
Best Hard Work Pays Off Quotes
1.
Hard work and determination equals success. Nothing comes easy. Put your mind to something.
– Kevin Hart
2.
See, winners embrace hard work.
– Lou Holtz
3.
Don't watch the clock; do what it does. Keep going.
– Sam Levenson
4.
I've always believed that if you put in the work, the results will come.
– Michael Jordan
5.
Hard work always wins in the end.
– Lucas Till
6.
Work hard, be kind, and amazing things will happen.
– Conan O'Brien
7.
Striving for success without hard work is like trying to harvest where you haven't planted.
– David Bly
8.
The road to success is not easy to navigate, but with hard work, drive and passion, it's possible to achieve the American dream.
– Tommy Hilfiger
9.
The enthusiasm to work hard and endless determination is the two great skills for success.
– Lailah Akita
10.
I believe in work, hard work, and long hours of work. Men do not breakdown from overwork, but from worry and dissipation.
– Charles Evans Hughes
11.
I don't know anything about luck, but that the harder I train, the luckier I get.
– Ingemar Stenmark
12.
There is simply no substitute for hard work when it comes to achieving success.
– Heather Bresch
13.
Growth is that fusion of Talent and Hard work that work as a deadly combination when introduced together.
– Hermann J Steinherr
14.
Chase the vision, not the money. The money will end up following you.
– Tony Hsieh
15.
Without hustle, talent will only carry you so far.
– Gary Vaynerchuk
Hard Work Motivational Quotes
16.
You feel good if you've done hard work. You sleep better. You get stuck in your head if you have too much time to think.
– Ryan Gosling
17.
The harder the conflict, the more glorious the triumph.
– Thomas Paine
18.
Reality is easy. It's deception that's the hard work.
– Lauryn Hill
19.
The highest reward for a man's toil is not what he gets for it but what he becomes by its.
– John Ruskin
20.
Two little mice fell in a bucket of cream. The first mouse quickly gave up and drowned. The second mouse, wouldn't quit. He struggled so hard that eventually he churned that cream into butter and crawled out. Gentlemen, as of this moment, I am that second mouse.
– Frank Abagnale
21.
My grandfather once told me that there were two kinds of people: those who do the work and those who take the credit. He told me to try to be in the first group; there was much less competition.
– Indira Gandhi
22.
The highest compliment that you can pay me is to say that I work hard every day.
– Wayne Gretzky
23.
Success is not how high you have climbed, but how you make a positive difference to the world.
– Roy T. Bennett
24.
Champions keep playing until they get it right.
– Billie Jean King
25.
Hard work pays off. The harder you work, the more people will notice.
– Sydney Sweeney
26.
The difference between try and triumph is just a little umph!
– Marvin Phillip
27.
Hard work compounds like interest, and the earlier you do it, the more time you have for the benefits to pay off.
– Sam Altman
28.
To achieve your dreams, work is required. Suffering is optional.
– Jack Canfield
29.
Hard work works harder than luck!
– Germany Kent
30.
Plans are only good intentions unless they immediately degenerate into hard work.
– Peter Drucker
Quotes on Hard Work Paying Off
31.
You are your greatest asset. Put your time, effort and money into training.
– Tom Hopkins
32.
A pound of pluck is worth a ton of luck.
– James A. Garfield
33.
Be humble. Be hungry. And always be the hardest worker in the room.
– Dwayne Johnson
34.
If you really look closely, most overnight successes took a long time.
– Steve Jobs
35.
It's hard work making movies. It's like being a doctor: you work long hours, very hard hours, and it's emotional, tense work. If you don't really love it, then it ain't worth it.
– George Lucas
36.
One important key to success is self-confidence. An important key to self-confidence is preparation.
– Arthur Ashe
37.
If you get tired, learn to rest, not to quit.
– Banksy
38.
Hard work has made it easy. That is my secret. That is why I win.
– Nadia Comaneci
39.
Hard work without talent is a shame, but talent without hard work is a tragedy.
– Robert Half
40.
There may be people that have more talent than you, but there's no excuse for anyone to work harder than you do.
– Derek Jeter
41.
The only place where success comes before work is in the dictionary.
– Vidal Sassoon
42.
Breakthrough does not only come from hard work, but with consistency in working hard.
– Nokwethemba Nkosi
43.
The only difference between success and failure is the ability to take action.
– Alexander Graham Bell
44.
Develop success from failures. Discouragement and failure are two of the surest stepping stones to success.
– Dale Carnegie
45.
Study while others are sleeping. Work while others are loafing. Prepare while others are playing. Dream while others are wishing.
– William Arthur Ward
Inspiring Hard Work Pays Off Quotes
46.
Luck is what happens when preparation meets opportunity.
– Seneca
47.
I'm a designer, and I work very hard at that. People sometimes want to put down fashion by saying it's frivolous or superficial, but it's not that way at all. It's actually very hard work.
– Donatella Versace
48.
The fans in Dallas were hard on me my first year, but after having a great year last year they are now supporting me. It feels great to have my hard work pay off, especially when the fans made it hard for me.
– Steve Nash
49.
We all have dreams. But in order to make dreams come into reality, it takes an awful lot of determination, dedication, self-discipline, and effort.
– Jesse Owens
50.
Hard work is painful when life is devoid of purpose. But when you live for something greater than yourself and the gratification of your own ego, then hard work becomes a labor of love.
– Steve Pavlina
51.
Hard work makes us better people and helps our communities flourish.
– Joe Lonsdale
52.
Motivation will almost always beat mere talent.
– Norman Ralph Augustine
53.
Remember, half the people you know are below average.
– Larry the Cable Guy
54.
The harder you work, the faster you go up the ladder of your destiny.
– Terry Mark
55.
If we had no winter, the spring would not be so pleasant. If we did not sometimes taste adversity, prosperity would not be so welcome.
– Josh Billings
56.
When you put a lot of hard work into one goal and you achieve it, that's a really good feeling.
– Derek Jeter
57.
The future belongs to those who believe in the beauty of their dreams.
– Eleanor Roosevelt
58.
Through hard work, perseverance and a faith in God, you can live your dreams.
– Ben Carson
59.
Success seems to be largely a matter of hanging on after others have let go.
– William Feather
60.
Believe in yourself, work hard, work smart and passionately present your best self to the world.
– Hill Harper
Hard Work Pays Off Quotes and Sayings
61.
The only way to be truly satisfied is to do what you believe is great work.
– Steve Jobs
62.
Your hard work might not pay off today or tomorrow, but it will eventually pay off.
– Sonya Parker
63.
Hard work is the formula for success.
– Lailah Akita
64.
Life is hard and it can be made easier only by working hard.
– Vikrant Parsai
65.
Slight persistent effort can move you successfully forward in anything you do.
– Kelli Wilson
66.
Nothing is really work unless you would rather be doing something else.
– James M. Barrie
67.
You are never too old to set another goal or to dream a new dream.
– C.S. Lewis
68.
For every two minutes of glamour, there are eight hours of hard work.
– Jessica Savitch
69.
I didn't get there by wishing or hoping for it, but by working for it.
– Estee Lauder
70.
Run to the fire; don't hide from it.
– Meg Whitman
71.
Start by doing what's necessary; then do what's possible; and suddenly you are doing the impossible.
– Francis of Assisi
72.
Hard work increases the probability of serendipity.
– Ken Poirot
73.
An ambitious person is one with a mental condition which compels him to work himself to death in order to live.
– Vikrant Parsai
74.
There is no substitute for hard work.
– Thomas A. Edison
75.
The difference between the impossible and the possible lies in a person's determination.
– Tommy Lasorda
Motivational Hard Work Pays Off Quotes
76.
Without hard work, nothing grows but weeds.
– Gordon B. Hinckley
77.
Nothing is particularly hard if you divide it into small jobs.
– Henry Ford
78.
The only way to achieve the impossible is to believe it is possible.
– Charles Kingsleigh
79.
Luck doesn't exist, only hard work works.
– Serge Nubret
80.
Talent without working hard is nothing.
– Cristiano Ronaldo
81.
Genius is 1% inspiration and 99% perspiration.
– Thomas Edison
82.
Some things is made by destiny, yes, other things by hard work, but quality you don't learn. Quality you are born with.
– Zlatan Ibrahimovic
83.
We must believe in luck. For how else can we explain the success of those we don't like?
– Jean Cocteau
84.
With hard work and dedication, anything is possible.
– Timothy Weah
85.
Hard work enables us to improve ourselves and the world around us, to combat injustice, reduce suffering, and increase human freedom.
– Joe Lonsdale
86.
A dream doesn't become reality through magic; it takes a lot of hard work.
– Ozwald Boateng
87.
He who would learn to fly one day must first learn to stand and walk and run and climb and dance; one cannot fly into flying.
– Nietzsche
88.
If I hadn't had the talent, the networks wouldn't have televised my fights. No one has made me; I made myself. I paid my dues.
– Sugar Ray Leonard
89.
Luck? I don't know anything about luck. I've never banked on it and I'm afraid of people who do. Luck to me is something else: Hard work–and realizing what is opportunity and what isn't.
– Lucille Ball
90.
If a man is called to be a street sweeper, he should sweep streets even as Michelangelo painted, or Beethoven composed music or Shakespeare wrote poetry. He should sweep streets so well that all the hosts of heaven and earth will pause to say, 'Here lived a great street sweeper who did his job well.
– Martin Luther King, Jr.
Quotes About Success and Hard Work
91.
I always remind my kids that hard work pays off. They see that I take nothing for granted in life. It helps them stay grounded.
– Dwyane Wade
92.
If you have the passion to do something, work hard, stay honest and nothing can stop you to accomplish it.
– Jahangir Khan
93.
Most of the important things in the world have been accomplished by people who have kept on trying when there seemed to be no hope at all.
– Dale Carnegie
94.
Everyone works hard when they want to, when they get quick results, when it's convenient to put forth effort. The best work hard when they don't want to, when it's inconvenient to give it that little extra effort… and that extra effort might be just what they need to place them on top.
– Peter Vidmar
95.
It is only perfection in the foundations that can lead to mastery of the whole…'Talent is Work.'
– Galina Ulanova
96.
If you will keep being your best right where you are, you will come into more favor, promotion and opportunity than you ever imagined.
– Joel Osteen
97.
I don't believe in geniuses, I believe in hard work.
– Michel Petrucciani
98.
Extract best of you by subjecting yourself to hard work of an unknown domain.
– Dr Anil Kumar Sinha
99.
There are no traffic jams on the extra mile.
– Zig Ziglar
100.
When you are willing to replace mundane excuses with hard work and your laziness with determination, nothing can prevent you from succeeding.
– Prem Jagyasi
101.
Nothing will work unless you do.
– Maya Angelou
102.
Great companies are built in the office, with hard work put in by a team.
– Emily Chang
103.
If people knew how hard I had to work to gain my mastery, it would not seem so wonderful at all.
– Michelangelo
104.
Don't settle for average. Bring your best to the moment. Then, whether it fails or succeeds, at least you know you gave all you had. We need to live the best that's in us.
– Angela Bassett
105.
True heros are made of hard work and integrity.
– Hope Solo
Hard Work Pays Off Quotes to Inspire Action
106.
No matter how hard you work, someone else is working harder.
– Elon Musk
107.
When opportunities knock on the door, move on, grow stronger and prepare yourself for hard work. Opportunities will turn into a great story of success.
– Dr Anil Kumar Sinha
108.
I would rather have one article a day of this sort; and these ten or twenty lines might readily represent a whole day's hard work in the way of concentrated, intense thinking and revision, polish of style, weighing of words.
– Joseph Pulitzer
109.
Hoping gets you nothing in life. If you want more in life it's your job to earn it.
– Robert Kiyosaki
110.
If you focus on results, you will never change. If you focus on change, you will get results.
– Jack Dixon
111.
If you start thinking you are good at something, that's often the day you stop trying to be better and open the back door for someone to come after you. That's why we always aim higher. We never feel like we're done.
– Drew Houston
112.
No matter what you choose to do in life you cannot succeed without hard work and persistent efforts.
– Anurag Prakash Ray
113.
We learned about dignity and decency, that how hard you work matters more than how much you make, that helping others means more than just getting ahead of yourself.
– Michelle Obama
114.
Our greatest weakness lies in giving up. The most certain way to succeed is always to try just one more time.
– Thomas Edison
115.
Always do your best. What you plant now, you will harvest later.
– Og Mandino
116.
I have no Napoleonic dream. I'm just hard-working and pragmatic.
– Roman Abramovich
117.
Nothing in the world is worth having or worth doing unless it means effort, pain, difficulty… I have never in my life envied a human being who led an easy life. I have envied a great many people who led difficult lives and led them well.
– Theodore Roosevelt
118.
I have had lots of luck in my career but there has also been a lot of hard work.
– Maria Sharapova
119.
The Goddess doesn't enter us from outside; she emerges from deep within. She is not held back by what happened in the past. She is conceived in consciousness, born in love, and nurtured by higher thinking. She is integrity and value, created and sustained by the hard work of personal growth and the discipline of a life lived actively in hope.
– Marianne Williamson
120.
If you love your work, you'll be out there every day trying to do it the best you possibly can, and pretty soon everybody around will catch the passion from you – like a fever.
– Sam Walton
Famous Hard Work Pays Off Quotes
121.
Preparation for tomorrow is hard work today.
– Bruce Lee
122.
It's hard work to make a four-minute program look effortless and elegant.
– Katarina Witt
123.
Work hard, don't quit, be appreciative, be thankful, be grateful, be respectful, also to never whine ever, never complain, and, always, for crying out loud, keep a sense of humor.
– Michael Keaton
124.
The future depends on what you do today.
– Mahatma Gandhi
125.
Success is not the key to happiness. Happiness is the key to success. If you love what you are doing, you will be successful.
– Albert Schweitzer
126.
Hard work is not punishment. Hard work is the price of admission for the opportunity to reach sustained excellence.
– Jay Bilas
127.
We need to accept that we won't always make the right decisions, that we'll screw up royally sometimes – understanding that failure is not the opposite of success, it's part of success.
– Arianna Huffington
128.
Have a goal. Work towards it. Because there is not a thing more fulfilling than reaping the fruits of your labor.
– Amanda Shivrattan
129.
Don't join an easy crowd; you won't grow. Go where the expectations and the demands to perform are high.
– Jim Rohn
130.
To succeed, work hard, never give up and above all, cherish a magnificent obsession.
– Walt Disney
Inspirational Hard Work Pays Off Quotes
131.
Nothing worth having comes easy.
– Theodore Roosevelt
132.
Hard work always pays off, whatever you do.
– Dustin Lynch
133.
There is no substitute for hard work, 23 or 24 hours a day. And there is no substitute for patience and acceptance.
– Cesar Chavez
134.
You don't have to be great to start, but you have to start to be great.
– Zig Ziglar
135.
The difference between ordinary and extraordinary is that little extra.
– Jimmy Johnson
136.
You can't just will your dreams to come true. You have to work hard. You have to give 'em wings, arms, legs…whatever it takes to make your dreams come true.
– Dolly Parton
137.
That was my way of getting through difficult times of low confidence – hard work.
– David Beckham
138.
Desperation is not an evidence of hard work; it's a sign of lack of faith.
– Constance Friday
139.
Do not wait; the time will never be 'just right.' Start where you stand, and work with whatever tools you may have at your command, and better tools will be found as you go along.
– George Herbert
140.
The harder you work, the harder it is to surrender.
– Vince Lombardi