Marriage is a special and major step in a person's life and a commitment that is intended to last a lifetime. Thus, a wedding day becomes a momentous milestone worth some well wishes, prayers, and heartfelt messages.
So, sending wedding wishes and messages to the couple-to-be naturally becomes an exciting part of every wedding. However, finding the right words to send to them might be difficult at times especially when you want to do it well and make it truly memorable for them.
Depending on how close you are to the couple, the choice of conveyance and type of your wedding wish will vary. For instance, you can simply send beautiful love quotes and sayings to your colleagues or an acquaintance.
But if you have a very close personal relationship with the couple, then you might want to be very deliberate with your choice of wedding wishes to send or write in a card.
Essentially, you need to write something that has a bit of sentiment to it, is sweet, and more importantly tailored to the couple and your relationship with them. You should try to capture the tone of their love and special day the best you can while adding some excitement.
Wedding Wishes and Messages
We've curated some beautiful and heartfelt wedding wishes, messages, and quotes to help you strike the right note in expressing your happiness for the newly married couple as they begin a beautiful journey together.
So, whether it is your child, colleague, friend or family member that is walking down the aisle, we've got something for you that will help you best convey your feelings for the happy couple.
You can even use these wedding wishes and messages to post on their social media handles like Facebook or Instagram. Also, you can send them as texts.
So, get inspired with these wedding wishes and messages to express your best wishes and set the right tone for the big day. Remember to make it heartfelt as you offer them positive wishes for their marriage.
Wedding Wishes
1.
Wishing you a long and happy marriage.
2.
Congratulations! May this wedding brings long-lasting love and happiness for the two of you.
3.
Congratulations on your marriage! I hope the both of you never lose your love, and I wish you an amazing married future!
4.
May you have a wonderful and happy marriage! I hope you are able to celebrate this holy matrimony in the most beautiful fashion and be with the people you love dearly.
5.
So happy to celebrate this incredible union. Congratulations to you both.
6.
I hope that your wedding is a mix of happiness, togetherness and much love! May the two of you find much comfort, faith and a lot of hope in each other. Have a happy married life!
7.
Cherish every moment together and you'll have a lifetime of bliss!
8.
May your new home be full of smiles, laughter, hugs, kisses, understanding, respect, and faithfulness.
9.
You radiate this peace and confidence. I wish you only the best for the future!
10.
The sweetest people getting together makes the sweetest couple to walk this earth. You deserve everything good and more. I pray for your love to go on forever!
Casual Wedding Messages
11.
May you two continue to love one another more! Wish you a happy wedding!
12.
May the years ahead be filled with eternal joy. Happy Wedding!
13.
May you and your partner discover all the hues of life's happiness. Happy Wedding!
14.
Congratulations on becoming a family! I'm sure that you'll have a lot of fun together. You are a perfect couple, everyone knows that.
15.
Here's to a long and happy married life!
16.
I wish you both a lifetime of happiness on your wedding day! Congratulations.
17.
Congratulations! May your marriage be blissful and eternal!
18.
A successful marriage needs understanding, forgetting mistakes and falling in love many times, always with the same person!
19.
Warmest wishes for a fun-filled future together.
20.
Your most cherished wish has finally come true. I wish you happiness, success, and joy! Congratulations!
Marriage Wishes
21.
My best wishes! I hope your wedding is happy and never-ending!
22.
You both are better together, and I'm so happy for the two of you. Congratulations!
23.
Enjoy every moment of this beautiful day!
24.
I wish you both a fulfilling marriage and a lifetime of joy.
25.
Thank you for letting me be a part of your memorable wedding celebration! Make sure to be good to each other and never let your trusty partner go.
26.
Congratulations to the most adorable-looking bride and groom for entering into a new chapter in their life. May God's blessing be with you in the coming years!
27.
Marriage is not only about craziness and joy. It's about the liabilities and responsibilities. So, make yourself prepared to protect your family's peace. Wishing you never-ending love and happiness! Happy Conjugal life!
28.
Your love is truly one for the ages.
29.
May both of you be faithful to each other like you've always been faithful to God. May his mercy always be with you!
30.
You're the most perfect match and truly made for each other. Let us supplicate for your happy future.
Formal Wedding Wishes
31.
Congratulations on your marriage. May it be fulfilling and everlasting.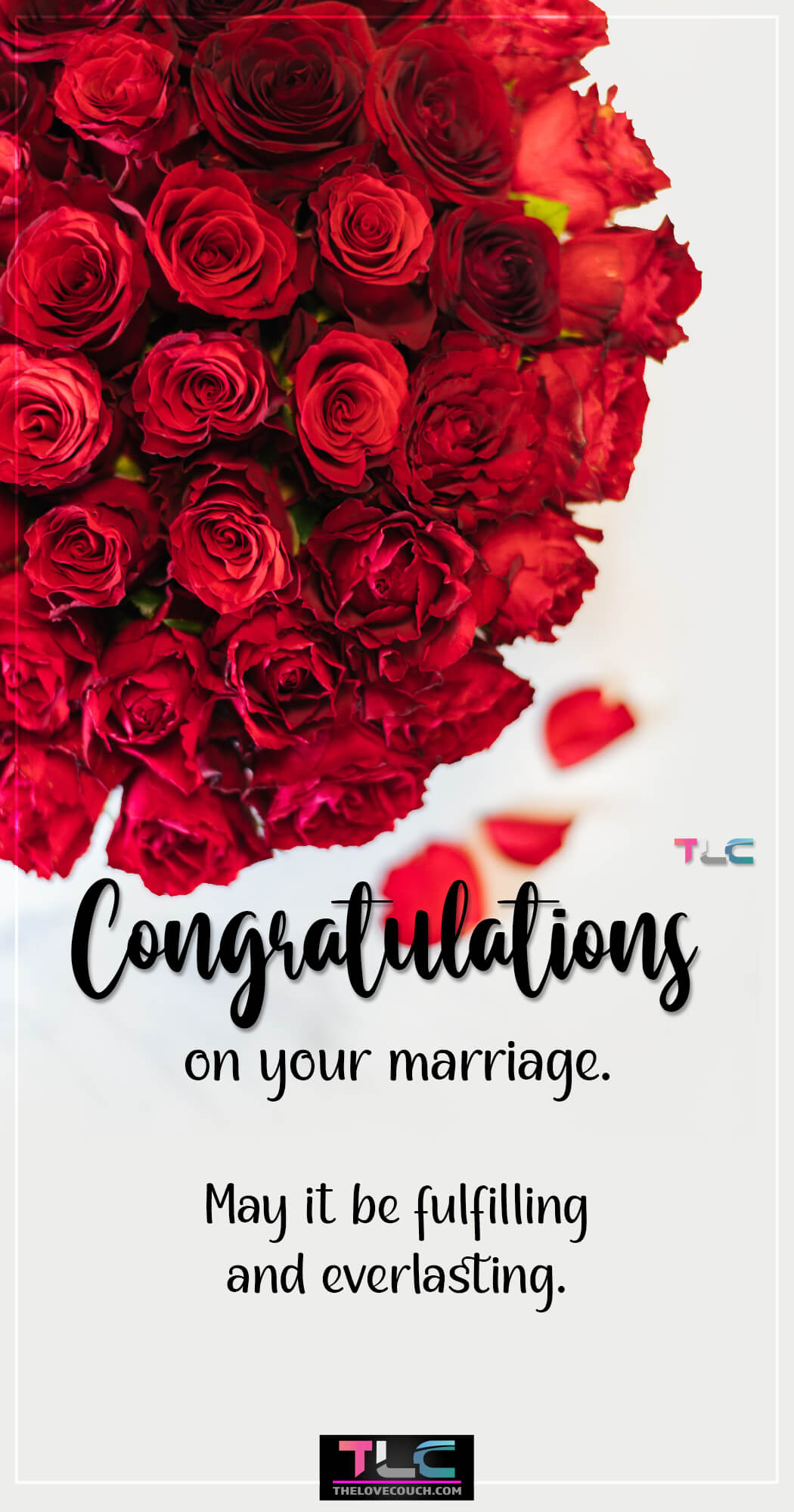 32.
May the love you share today grow stronger as you grow old together.
33.
So thankful I got to share this day with you both!
34.
If ever two people deserved a sweet, meaningful, joyful wedding day, it's the two of you.
35.
Wishing you nothing but endless love.
36.
We hope you can feel all the happiness surrounding you on your wedding day!
37.
As time passes may your love only grow beyond measure!
38.
There's nothing like the celebration of true love!
39.
Wishing you the best as you embark on this next chapter of your life.
40.
Today is the beginning of forever. Happy wedding day!
Happy Married Life Wishes
41.
Your love is like a budding flower that reaches its most beautiful form after the wedding. Best wishes for your wedding, that your marriage may be like spring, so fresh and joyful.
42.
Wishing you two all the happiness and love. Here's to you!
43.
I wish the happiness and love that you feel today shines forever.
44.
I'll tell you the secret of a happy marriage…umm…it's still a secret for everyone! I hope you figure it out together.
45.
Congratulations! May the love that joins you together only become stronger in the coming years of your life. Always cherish the love you have for each other and never let it fade away. Accept my heartiest wedding wishes for you!
46.
For your future, I wish you understanding of each other, confidence and strength to always remain faithful in your marriage. I believe in you guys!
47.
Thanks for the free booze. Best wishes on a long, happy marriage!
48.
Wishing you the fulfillment of every dream!
49.
Marriage is like a long hot bath. If you can always pick yourself up and pour warm water, you can endure wonderfully in it until you are all wizened.
50.
We couldn't be happier to call you family. Thanks for allowing us to join in the Big Day.
Wedding Wishes for a Colleague
51.
May this marriage fill your life with joy, happiness, and lots of love. Congratulations as you start a new journey.
52.
Your future as a couple is exceptionally bright. Congratulations on finding your special someone.
53.
Wishing you success and, most of all, happiness in your marriage!
54.
Congratulations to you both and your families. The rest of your life starts today!
55.
It's such a joy to see you so happy. Continued blessings!
56.
I wish you both a long and happy marriage!
57.
Following your heart always leads to a lifetime of love.
58.
I'm so glad to share this special day with you two!
59.
Best wishes to a very cool coworker and your spouse.
60.
Best of luck to you during this special time of life. We cannot wait to see the way that marriage improves your life and how a spouse makes you a better person.
Wedding Congratulations Messages
61.
Can't wait to celebrate your special day together.
62.
Congratulations on your wedding. May you two enjoy beautiful and joyful days together. May this marriage be blissful and happy.
63.
Seeing a couple so in love is a rare sight, which warms any old and bitter heart, even mine! Best wishes and have a long, prosperous marriage!
64.
That's what you get for not falling in love at the right time when you were young. Now you have to marry what is left. Nevertheless, I wish you all the best of luck for the future!
65.
Now forge single-handedly marital bliss – for two. My wish: It be constant and durable always!
66.
Congratulations on your wedding day, and best wishes for a happy life together!
67.
It took you guys a while to find each other, but I have to say it was worth it. You are a great couple, a good team and I am convinced that you will get through any distance and any difficulty in life.
68.
All you wanted in life was true love and today you have made it all yours, forever. Congratulations! You look adorable in your wedding dress!
69.
Here's to a long, happy life with the one you love. Wishing you the best.
70.
Lots of love to you both!
Religious Wedding Wishes
71.
As you unite today in marriage as Christians, I wish you both an eternity of love and happiness together. I pray for Jesus to shine his light upon you.
72.
Sending you prayers for unending love and happiness.
73.
Open your hearts to the blessings God provides, and may your love overwhelm you every day of your lives!
74.
Congratulations on your first big step together. May God send his blessings to you and the family you are about to start.
75.
Congrats on this beautiful and lovely occasion! May the Good Lord give you a wonderful life together!
76.
I pray that your holy bond is eternally protected by God and that He sends you all the happy moments you could ever want in life.
77.
God has made a perfect partner for each other in this world. Yours seem to be the most perfect pair of all. God bless you!
78.
May our Lord smile upon you always and give you all the happiness you ever wanted in life. May your bond be protected by God's eternal love!
79.
Marriage bonds two people into one; Cherish one another. Congratulations on your wedding. May God bless you.
80.
Let the blessings of God come through the open door in your heart and let your married life be overwhelmed by the abundance of God's love!
Wishes for Newly Married Couple
81.
Congratulations on your marriage! You two look so good together that it seems like you really are made for each other! Have a wonderful life together!
82.
Wishing you a life full of love and joy.
83.
Your wedding day will come and go, but may your love forever grow.
84.
Thank you for letting me witness this wonderful ceremony, I was really tearful seeing you guys together. Today I pray that you keep loving each other every day.
85.
Now that you have become two, does it mean that I'll get two birthday gifts every year?!
86.
May your love be strong and steadfast through the storms of life. Wishing you both all the happiness and joy on your wedding day. Congratulations!
87.
Wishing you all the love and joy in the world on your wedding day. Have a married life filled with trust, respect, and love.
88.
I hope through the years, you become even better friends and share every possible kind of happiness life can bring.
89.
Wishing you a lifetime of happiness and love!
90.
I'm happy for the two of you. I wish you all the love and happiness in your new life.
Funny Wedding Wishes
91.
Remember, in order to have a successful marriage, you must fall in love many times and always with the same person.
92.
The day he got your Elephant-Ant joke, I knew this was real! Congratulations on finding a man as weird as you.
93.
Stick this card on your fridge door and thank me later for not being the one who forgets anniversaries. Congratulations bestie!
94.
The concept of marriage is so wonderful, can't say the same about the experience though! Bless both of you and your new life together!
95.
Marriage is so beautiful. You have finally found that one person you get to annoy all through your life.
96.
Thank you so much for giving us a day to chill. Today is a wonderful day to be married! Congrats.
97.
I knew you two were madly in love with each other but didn't think that you'll be mad enough to marry. Have a great life ahead.
98.
A man who correctly guesses a woman's age may be smart, but he's not very bright.
99.
The only upside to your wedding is that now you have someone else who you can irritate when you are bored. HaHa congratulations to both of us!
100.
Marriage is an attempt to solve problems together – problems that never existed before you married. But since you've picked your problems, let's celebrate. Cheers!
Congratulatory wedding wishes
101.
May this marriage be a bridge to usher in prosperity, happiness, and peace.
102.
Congratulations to Bride and Groom! May You enjoy honor, love, and happiness throughout your lives together.
103.
Congratulations! I wish you a happy and prosperous married life that lasts forever.
104.
Today you made some irreplaceable memories together, so make sure to keep them safe, so they can always be cherished. Lots of love to you both!
105.
Wishing you a happy, long marriage.
106.
I pray for your marriage to be filled with happiness, love, and support. Have the happiest married life, dear!
107.
I wish that your marriage would be a combination of happiness, companionship, and love! May you two find comfort, faith, and hope in one another. Happy married life to both of you.
108.
My warm wishes to your amazing wedding. I hope your love is lasting and I wish you a joyous married life.
109.
I love to see two people who deserve happiness so much find it with each other. Best wishes to you both.
110.
Life is similar to stupendous when you're with someone you really love in life. I know that you're in bliss right now, and I'm full of happiness for you!
Wedding Wishes for Family Member
111.
We're so happy that they found 'the one.' Welcome to the family!
112.
Family is everything and we're so proud to have you in ours. We love you! Welcome to the family!
113.
I'm so thankful to have a sister like you. And I wish you and your new husband lifelong joy.
114.
Today, we added one more member to our family and we couldn't be happier. Best wishes to you both in this next chapter.
115.
If God let you meet each other and blessed your union in marriage, you can be sure that He will keep blessing your life over the years. Enjoy your new lives, my wonderful son and new daughter!
116.
Your connection isn't just with your spouse, you're part of our family for life.
117.
It's been such a blessing to watch your love blossom over the years. Congrats!
118.
This special day will go down as one of our family's finest moments. We're so happy to have you in our lives.
119.
Congratulations on your marriage and welcome to the family!
120.
Our dearest princess daughter, we hope your new married life is filled with joy, laughter, happiness and love.
Beautiful Happy Married Life Wishes
121.
May your marriage be filled with love, hope, and happiness! Best wishes for the wedding to you both!
122.
May your love grow stronger each and every passing year.
123.
Thank you for letting us share in the celebration. Welcome to the family!
124.
No worries and doubts anymore, let it be love from the beginning to the end. Make your married life a piece of heaven. Happy wedding to both of you!
125.
Like a lighthouse at night, may your collective love shines brightly ever. The heart-filled wishes on your marriage!
126.
Starting a whole new chapter of life isn't easy, but doing it with the right person makes it a whole lot easier! Congrats on tying the knot and may your conjugal life be forever happy.
127.
Congratulations! I am so happy about your wedding! May the two of you have a wonderful life with each other.
128.
Happy Wedding day to my favorite newlyweds! It's the beginning of a long road, but thankfully you're on this road together. Much happiness to you!
129.
May your special day be filled with sweet memories that you can cherish forever. All the best wishes for both of you!
130.
Best wishes to the lovely couple as they begin a great journey of marriage together. Happy wedding day!
Wedding Wishes for Friend
131.
Congratulations on starting a new chapter with the person you love. Wish you all the best!
132.
I'm so thrilled to celebrate this wonderful day with you both.
133.
I hope you each bring each other as much happiness as your friendship has brought me. Congrats, friends!
134.
You two are the cutest couple I've ever known. My best wishes for your wedding. I hope you two have the nicest married life!
135.
Seeing the two of you together brings me so much joy. I'm so happy for you!
136.
Happy wedding day bestie. May the love and affection only grow between you two in the coming days of your life!
137.
Congratulations to the start of something amazing! Much love, joy, success, health, and happiness on this happy occasion!
138.
May you two have as much joy in your life as your friendship brought to mine. Congratulations! I couldn't be any happier for both of you!
139.
On your wedding day and as you start your new life together, I wish you all the happiness in the world. May you never stop loving each other. Congratulations on your new journey.
140.
Congrats my friend! I wish you many years of joy and a happy married future!
Quotes for Happy Married Life
141.
When a marriage works, nothing on Earth can take its place.
– Helen Gahagan Douglas
142.
We have a couple of rules in our relationship. The first rule is that I make her feel like she's getting everything. The second rule is that I actually do let her have her way in everything. And, so far, it's working.
– Justin Timberlake
143.
The groom always smiles proudly because he's convinced he's accomplished something quite wonderful. The bride smiles because she's been able to convince him of it.
– Judith McNaught
144.
Wedding: the point at which a man stops toasting a woman and begins roasting her.
– Helen Rowland
145.
Marriage is not a noun; it's a verb. It isn't something you get. It's something you do. It's the way you love your partner every day.
– Barbara De Angelis
146.
This is what marriage really means: helping one another to reach the full status of being persons, responsible beings who do not run away from life.
– Paul Tournier
147.
Weddings remind us that our lives have meaning and that love is the strongest bond, the happiest joy, and the loveliest healing we can ever experience.
– Daphne Rose Kingma
148.
Marriage, ultimately, is the practice of becoming passionate friends.
– Harville Hendrix
149.
Happy is the man who finds a true friend, and far happier is he who finds that true friend in his wife.
– Franz Schubert
150.
A good marriage is a contest of generosity.
– Diane Sawyer